More articles Sunday 13 August 2017 8:00pm
Will Self Hits Out at Critics Calling His Work 'Difficult'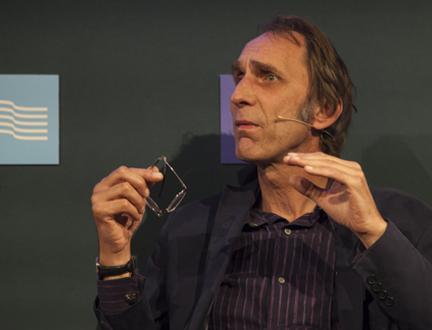 Novelist Will Self has hit out at critics who believe his De'Ath trilogy is "too difficult", claiming he had lost readers as a result. "It's been very, very, frustrating," he said to a sold out Baillie Gifford Main Theatre audience. "I've seen review after review, and the minute there's the word 'difficult' in [there] I know I've lost umpteen readers that second."
Sam Leith in the Times Literary Supplement described the book as "embuggeringly difficult", while Self recalled having "completely lost his temper" with Professor John Mullin, who "kept going on about how difficult it was" at an event in London.
"Eventually I stood up on stage and said John, you're the fucking professor of literature at University College London. You've written a critical essay on the paragraph…I began to think that there was an odd sort of professional closure going on in the critical field in relation to literature like this."
"I'm very struck though by how difficult people seem to find it," added Self. "Maybe I'm foolish, but I expect readers to be a little bit more sophisticated than that.
"I do have people who come up to me and say 'ooh these books you're writing Will, with no chapters or anything, I don't know when to stop reading', almost as if they were sitting there in a pile of their own excreta…do you need to be told to do everything at a certain time?"
If, suggested Self, there was "some sort of difficulty rating" then James Joyce's Finnegan's Wake would score "a perfect ten" while his most recent novel, Phone, would only "make a three or four", adding that it was "rather less difficult than the previous two" in his De'Ath trilogy.
Later in the event, Self also said the novel as a form of literature was "toast". "I confidently expect that very, very, few people will be reading novels in another hundred years," he explained. Earlier, he said his books had been "trying to express" the "dissolution" of the "novel form", "particularly its response to the pressures of digitisation."
Asked by event chair Stuart Kelly if he had "finished with" De'Ath protagonist Zack Busner, Self replied: "He's 78, he now has quite advanced Alzheimer's; I mean it would seem cruel to force him out of retirement."
But he suggested there might be a "Doctor Busner's Casebook somewhere down the line", in which he would examine Zack's earlier life, his studies at Edinburgh's Heriot Watt University and his first residency at the State Hospital in Carstairs. Maybe, added Self, there may be "some Lowland Scots stories to be told".
Asked for his thoughts on recent political events, Self said several times, "I am not an optimist", adding that Phone represented the "first depiction in serious British literature" of the "debacle" in Iraq, "and just how much bullshit the British Army was involved in on the ground".
More articles