More articles Thursday 18 August 2016 8:00pm
Winner of Edwin Morgan Poetry Award Announced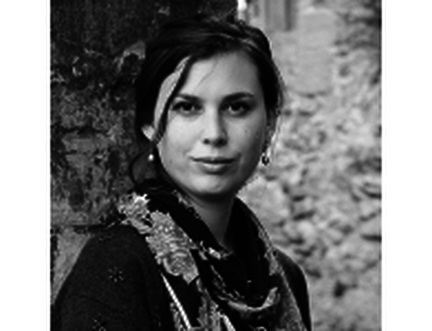 The Trustees of the Edwin Morgan Trust announced the winner of the biennial Edwin Morgan Poetry Award for Scottish poets aged 30 or under at the Book Festival this evening. The Award is administered by the Scottish Poetry Library.
The winner is Penny Boxall for her first collection Ship of the Line. Boxall was born in 1987 and grew up in Aberdeenshire and Yorkshire. Ship of the Line is published by Eyewear. In 2014 she was commended in the Forward Prize. Her poetry has appeared in the Sunday Times, The Rialto and Mslexia. Boxall was presented with the award of £20,000 at an event in the Baillie Gifford Corner Theatre, presented by the Edinburgh Makar Christine De Luca.
The judges of the Award were National Poet for Scotland Jackie Kay and former Edinburgh Makar Stewart Conn. Kay commented on Boxall's poems: 'Penny Boxall runs a tight ship. Her poems are beautifully crafted. Reading her is to go on an interesting journey of exploration—stopping at fascinating places along the way. She has a curator's mind and is always putting one thing beside another in an unexpected way.'
The runner-up is Miriam Nash for her collection All the Prayers in the House, which will be published by Bloodaxe in 2017. She was born in Inverness and spent her early years on the west coast island of Erraid. In 2016 she was Writer in Residence at Greenway, Agatha Christie's holiday home. She receives £2,500.
Stewart Conn said that, 'Miriam Nash's poems provide pleasure through the variety and veracity of their subject matter, her insight and freshness of approach, and the warmth she breathes into them.'
The other shortlisted poets, who each receive £1,000, are: Claire Askew, Sophie Collins, Harry Giles and Stewart Sanderson.
Professor James McGonigal, Chair of the Edwin Morgan Trust, said: 'We are delighted by the keen response to the 2016 Award. The Award is central to our work, and it is a real pleasure to be able to offer young poets of this calibre the chance to develop in new directions. This was Morgan's vision in funding the Award, and his lasting gift to new generations of poets.'
More articles