More articles Friday 24 August 2012 1:00pm
Writing a novel is a bit like getting married says Ian McEwan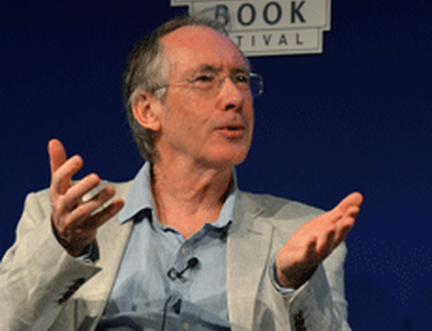 Man Booker Prize-winning novelist, Ian McEwan, likened writing a novel to getting married when he spoke last night at the Edinburgh International Book Festival.
The author of Atonement launched his latest novel, Sweet Tooth, in a sold-out event chaired by Kirsty Wark. "Writing a novel is a bit like getting married – is this the right person?" said McEwan, when discussing whether or not to continue with novels he had started writing, "It is a bit like choosing a University degree."
McEwan's latest work is a spy thriller set during the Cold War in the 1970's, and focuses on a young writer from Sussex University whose work is, unbeknown to him, funded by the propaganda department of the British secret service. Despite studying at the same University, the author claimed that the novel was not autobiographical joking that, "No-one became a spy from Sussex University – it is not technically possible."
Explaining the relationship between readers, writers and the novel, the author said, "It can only happen because it is such a personal thing and readers bring such demands and whole agendas to a novel…writing is such a vulnerable form."
On Wednesday evening, McEwan appeared at the Festival in conversation with Scotland's First Minister Alex Salmond. When questioned about the proposed independence of Scotland McEwan said, "I have an open mind. I think Alex Salmond is quite beguiling…it would be very interesting to read up on Czechoslovakia [which split into the Czech Republic and Slovakia in 1993]."
The Atonement author also revealed, "I quite like to end any novel on the left page so that you must turn over for the acknowledgments…it is like a de-pressurisation coming out of the world of the book."
The Edinburgh International Book Festival runs until Monday 27th August and today will feature Howard Jacobson, Carol Ann Duffy, Simon Armitage and Alistair Darling. Over the weekend, Olympic cauldron designer Thomas Heatherwick, Newsnight presenter Jeremy Paxman, Man Booker longlisted Jeet Thayil and Will Self will all appear at the Book Festival in Charlotte Square Gardens.
More articles