Kayo Chingonyi: The Poetry of Existence
Sat 28 Aug 17:30 - 18:30
Baillie Gifford Theatre (in West Court)
Watch online
Pay what you can to watch online. Available to watch any time.
Attend in person
Baillie Gifford Theatre (in West Court)
£14.00 [£12.00]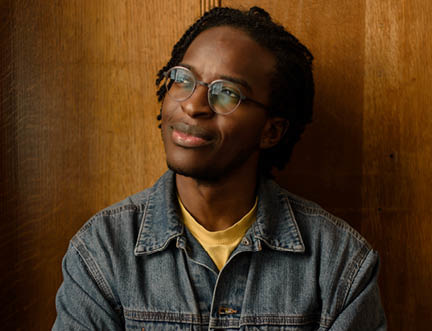 If there is a disease that is responsible for the title of Kayo Chingonyi's new poetry collection A Blood Condition, he never names it. Perhaps that's because the London-based poet's work is first and foremost about bloodlines – about the people and culture of his upbringing – that have had just as powerful an impact on him as the dominant British culture of English Literature. His work draws inspiration from Black hip hop lyricists just as readily as white canonical writers. Nevertheless, readers of Chingonyi's work will find it easy to imagine a more tragic inference to his title – especially if they know that he lost both his parents to HIV-related illnesses. This is the Zambia-born writer's second collection: it embodies the search for a poetic form that is true to his inheritance while also capable of being appreciated without stereotypical impressions of Blackness and 'racial identity'. Chingonyi joins us to perform work that is sophisticated, profound and full of grace.
This is a live event, with an author Q&A. If buying a ticket to watch the event in-person, the author will take part remotely and you'll see them on a large screen in the venue.
Categories: How We Live, Poetry/Spoken Word, Race
---