More articles Friday 24 August 2018 10:00am
Book Festival Wins Euan's Guide Accessible Festival Award for Third Consecutive Year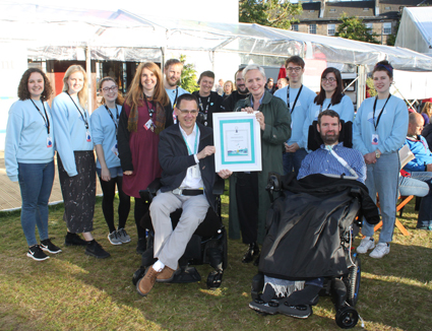 Today charity Euan's Guide announced the Book Festival as the winner of Best Pop-Up Venue in their 2018 Accessible Edinburgh Festivals Awards. Now in their third year, the Accessible Edinburgh Festivals Awards celebrate the accessibility and inclusivity of venues associated with Edinburgh's major festivals.
Euan's Guide praised the Book Festival on our third consecutive win, noting the continuing improvements that we are making to ensure the Festival is accessible to all, including installing a pop-up Changing Places toilet, introducing more signed and captioned performances and for our invisible disability badge scheme.
Book Festival Executive Director, Sophie Moxon said:
"We aim to make the Book Festival inclusive, accessible and welcoming to all our visitors, and are continually looking to improve not only what we offer, but also the way we communicate this. We are thrilled that Euan's Guide has recognised the changes we have made this year. Thanks to the support of Players of People's Postcode Lottery we are now able to offer our visitors a Changing Places Toilet, events in the programme for adults and children with Learning Disabilities and more BSL interpreted and close captioned events. We have also developed an access guide in print and online to assist new visitors to ensure that everyone has the best possible experience at the Book Festival."
Paul Ralph, Access and Inclusion Director at Euan's Guide said:
"Once again it is great to see Edinburgh's festivals raise the bar on their welcome for disabled people, their friends and families. Particularly exciting this summer has been the focus on invisible impairments and initiatives like the Book Festival's badges for folk requiring a little extra help, the amazing sensory backpacks from the Fringe Society and the Easy Read publications.
On the access front it was exceptional to see both the Book Festival and Fringe Society provide Changing Places Toilets making such a difference to so many people and families."
Euan's Guide was founded in 2013 by Euan MacDonald, a power chair user with Motor Neurone Disease, and his sister Kiki when they were looking for recommendations on accessible places to visit. The website features thousands of friendly and honest disabled access reviews and listings in the UK and internationally. Visit the Euan's Guide website.
You can find out more about accessibility at the Book Festival here.
More articles