More articles Saturday 26 August 2017 10:00am
Book Festival Wins Two Euan's Guide Accessible Festival Awards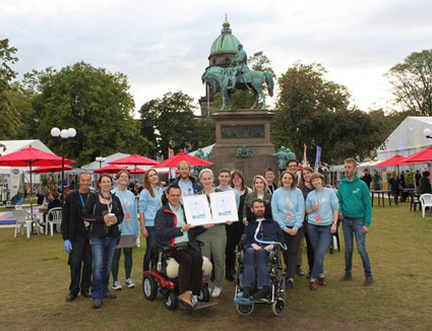 The organisers and staff at the Book Festival are thrilled to have been awarded two Euan's Guide Accessible Festival awards, recognising the Festival's commitment to making the Book Festival village accessible to all.
For the second year running, the Book Festival has been awarded the Most Accessible Pop-Up Venue award for the fully accessible site, including accessible venues, walkways and WCs. This year, the Book Festival have also been awarded the very special Euan's Guide Spirit of Inclusion Award, recognising the work that staff from the Festival put in to ensure a welcoming experience for anyone visiting - whatever their age, gender, background or disability. This is the first time in the history of the awards that one organisation has received two awards - and is an achievement of which all Book Festival staff are immensely proud.
Euan's Guide is the disabled access review website that aims to 'remove the fear of the unknown' and inspire people to try new places. The website was founded in 2013 by brother and sister, Euan and Kiki MacDonald, after Euan became a powerchair user. After spending hours of their time making enquiries about access at places they wanted to go, the duo realised that they could not be alone in their search for disabled access information. This idea became Euan's Guide, a digital charity that is helping to open up towns and cities to disabled people everywhere.
The team from Euan's Guide, including founder Euan MacDonald, presented the awards to Book Festival staff in Charlotte Square Gardens yesterday.
Each year, the Book Festival continues to work on creating a fully accessible Festival - offering an accessible site; accessible versions of the brochure including Braille, audio and daisy; and BSL interpreted events. For the first time this year, we also offered a selection of captioned events for those hard of hearing.
For more information on the Book Festival's accessible site, visit the Access page on the website or the Book Festival's venue page on the Euan's Guide website.
More articles