More articles Tuesday 30 August 2016 12:30pm
Edinburgh International Book Festival Closes on a High Note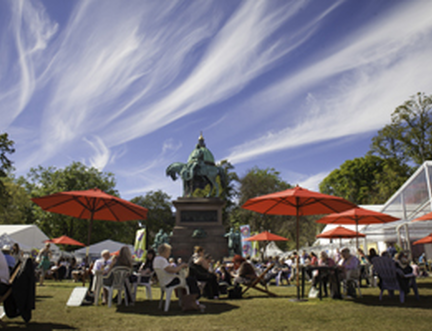 Edinburgh International Book Festival closes this afternoon after entertaining over 3,400 primary school children from across Scotland who came to enjoy talks, workshops and discussions on the final day of the Festival. Over the preceding 18 days, Charlotte Square Gardens welcomed over 800 writers, illustrators, poets, politicians and philosophers from 55 countries in a packed programme of passionate ideas, engaged debates and pure entertainment.
Audiences enjoyed events with the Scottish Makar Jackie Kay who was in conversation with First Minister Nicola Sturgeon, children's author Judith Kerr who discussed her life in literature, American feminist icon Erica Jong, Iranian Nobel Peace Prize Laureate Shirin Ebadi, Great British Bake Off Host Sue Perkins, Human Rights lawyer Philippe Sands and Egyptian novelist Alaa al Aswany amongst many others.
Nick Barley, Director of the Edinburgh International Book Festival, said "We have enjoyed an unbelievably brilliant festival with astonishing vitality and joy expressed by authors and audiences alike. Our enthusiastic audiences engaged with authors from every genre, welcomed exclusive previews of upcoming new books from Jonathan Safran Foer, Alan Cumming, Mark Thompson and Ray Mears, as well as enjoying first sightings of new writing from Philippa Gregory, James Kelman and Eimear McBride. We've explored stories of migration, seeking refuge and resettlement, we've looked at Europe, the UK and Scotland in light of the recent Brexit vote, and heard from some literary legends.
"The whole story is too big and too extraordinary to be expressed in numbers alone. Going into the 70th anniversary of Edinburgh as a Festival city I truly believe we have never been healthier and stronger than we are now."
45 debut novels and short story collections were featured in the 2016 Book Festival programme from as far afield as Nigeria, Spain, Hungary and the USA. All are eligible for the Festival's First Book Award and readers and visitors to the Book Festival are invited to vote for their favourite through the Book Festival website until Friday 14 October – https://www.edbookfest.co.uk/the-festival/first-book-award. Six authors shortlisted for the 2016 Man Booker Prize attended the festival, as did the winner of the 2016 Man Booker International Prize, South Korea's Han Kang.
In the Baillie Gifford Children's Programme Children's Laureate Chris Riddell drew the answers to his audience questions, Alex T Smith was the illustrator in residence, and The Great YA Debate set the tone for a series of discussions about the YA genre.
The Book Festival also set up three two-day Booked! Festivals in Galashiels, Inverclyde and Aberdeen creating events for schools and community groups as well as talks from Packie Bonner, Gunnar Staalesen and James Oswald. The View from Castle Rock, a dramatised production of two stories written by Nobel Laureate Alice Munro and adapted by Stellar Quines, having had a sold out run in August, will now tour to the Borders, playing in Melrose, Galashiels, Hawick and Ettrickvale. The View from Castle Rock was supported by the Scottish Government's Edinburgh Festivals Expo Fund and the Booked! Festivals are supported by players of People's Postcode Lottery.
With around 230,000 visits this August Charlotte Square Gardens were the busiest they have ever been with visitors attending events, browsing the Bookshops and relaxing in the cafes and Gardens. Ticket sales in 2016 increased by 3.5% and book sales were up by 3% - the highest ever sales in the Book Festival's 33-year history – selling more than 62,000 books in 17 days.
The 2017 Edinburgh International Book Festival will run from Saturday 12 August to Monday 28 August 2017 and the programme will be announced in June. Audio and video from events in the 2016 Book Festival, including Chris Packham, Laura Bates, James Kelman and Frederick Forsyth in conversation with Ian Rankin are now available on the website with more to be released over the coming months (www.edbookfest.co.uk). A range of events which were live streamed on BBC Arts Online during the Festival are now available on i-player. (http://www.bbc.co.uk/arts)
More articles