More articles Monday 28 August 2017 6:35pm
Edinburgh International Book Festival Enjoys Another Extraordinarily Successful Year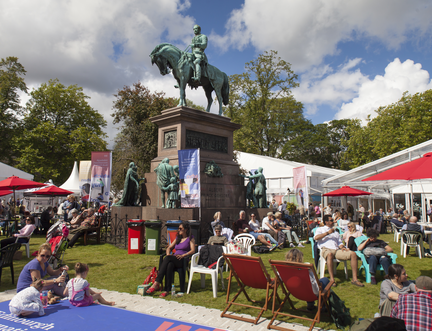 The 2017 Edinburgh International Book Festival ends its public programme this evening having welcomed 1,000 authors, illustrators, poets, politicians and performers from 50 countries to Charlotte Square Gardens and the new expansion onto George Street. This year there has been a record footfall into the Gardens of over 250,000 – the largest audience in the 34-year history of the Festival and a significant increase on 2016. Ticket sales were up over 4% and book sales grew by more than 5%, with over 63,000 books sold in the 17 days (of which Nasty Women published by Scottish publisher 404 Ink was the bestselling).
Nick Barley, Director of the Edinburgh International Book Festival said "It's wonderful to see that our extension into George Street has attracted new audiences, while allowing us to retain all the spirit and vigour of the Book Festival's beating heart in Charlotte Square Gardens. This year's festival has been a riot of ideas, entertainment and unforgettable conversations involving writers and readers from all corners of the world – from Bonnyrigg to Buenos Aires and from Lewis to Lagos."
In a programme packed with ideas, inspiration and entertainment, sold out events included talks by Paul Auster, Chimamanda Ngozi Adichie in conversation with Nicola Sturgeon, Elif Shafak, Jackie Kay, Judy Murray, Richard Ford with Kirsty Wark and David Mitchell combining words and music with concert pianist and composer David Greilsammer. Award-winning novelist Mitchell, one of the 2017 Guest Selectors, said "The Edinburgh International Book Festival is now a tangible national asset. Out of Charlotte Square director Nick Barley and his team serve up an annual all-you-can-eat banquet of reading diversity, mind-nourishment and creative collaboration. Edinburgh is the equal of any festival of literature, anywhere."
In the Baillie Gifford Children's Programme Julia Donaldson launched her new book and Chris Hoy, Clare Balding and Adrian Edmondson all entertained sell-out audiences with their children's books. Cressida Cowell, who launched the first book of her new series at the Festival said, "I have special affection for this festival because How to Train your Dragon was so directly inspired by my childhood on a tiny, uninhabited island off the west coast of Scotland. Edinburgh audiences are always brilliantly enthusiastic and supportive - I love visiting."
Unbound, the Book Festival's late night live literature strand, enjoyed evenings with The Last Poets, Paul Muldoon and his band, and the Fun Lovin' Crime Writers – all performing to capacity audiences.
The Book Festival won a Herald Angel for Outriders. The project, supported by the Scottish Government's Edinburgh Festivals Expo Fund through Creative Scotland, sent five young, talented Scottish writers on five extraordinary journeys across the Americas accompanied by local writers. All ten writers reunited in Edinburgh in a series of events celebrating their adventure, and also unveiling the creative output inspired by their travels. Jenni Fagan commented "Through the Edinburgh International Book Festival writers find a space to be inspired, connect, argue, debate, form friendships and a literary community — all of these things are so important and I am eternally glad and enriched to be a part of it."
For a second year, the Book Festival was awarded the Euan's Guide Most Accessible Pop-Up Festival Venue award, recognising the effort put into ensuring every part of the festival site is accessible to all. Euan's Guide also awarded the Book Festival their Spirit of Inclusion Award. Sophie Moxon, Executive Director of the Book Festival, said "This Spirit of Inclusion Award is particularly special. It recognises our people and how we make everybody welcome and make sure all our audience has the best possible experience. It's because of this that we're building a community of readers and writers that is truly inclusive."
50 debut novels and short story collections were featured in the 2017 Book Festival programme from as far afield as Egypt, Argentina, Iceland, France, the United Arab Emirates and the USA. All are eligible for the Festival's First Book Award and readers and visitors to the Book Festival are invited to vote for their favourite through the Book Festival website until Friday 13 October – https://www.edbookfest.co.uk/the-festival/first-book-award. Six authors shortlisted for the 2017 Man Booker Prize attended the festival, as did the winner of the 2017 Man Booker International Prize, Israel's David Grossman.
As well as expanding into George Street for the first time, the Book Festival also presented mini-festivals in Irvine, East Kilbride and Aberdeen as part of the Booked! programme, supported by players of People's Postcode Lottery. In addition, author Julian Clary and illustrator David Roberts presented the latest outing for The Bolds to offenders and their families at HMP Edinburgh, and Jake Arnott spoke to a group in HMP Grampian.
This autumn, the Book Festival will present talks by world renowned Turkish author Orhan Pamuk at the Edinburgh International Conference Centre on Sunday 17 September at 3.00pm and Alan Hollinghurst will speak at the Pleasance Theatre on Tuesday 10 October at 7.00pm. Tickets for both these events can be purchased through the Book Festival website at www.edbookfest.co.uk.
The 2018 Edinburgh International Book Festival will run from Saturday 11 August to Monday 27 August 2018 and the programme will be announced in June. Audio and video from events in the 2017 Book Festival, including Paul Auster, Chimamanda Ngozi Adichie in conversation with Nicola Sturgeon and Juliana Buhring will be available on the website shortly with more to be released over the coming months (www.edbookfest.co.uk). A range of events which were live streamed on BBC Arts Online during the Festival are now available on i-player. (http://www.bbc.co.uk/arts).
More articles