More articles Wednesday 06 September 2023 11:00am
Exclusive October Events Close 2023 Festival Season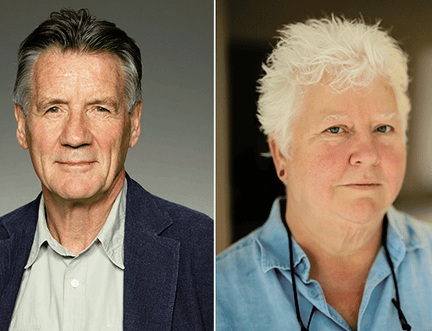 It's with great excitement that we announce two exclusive author events coming up this autumn to close the Book Festival 2023 season.
Michael Palin joins us on 3 October with his new book, Great-Uncle Harry: A Tale of War and Empire. In this special event, Palin reveals how he tracked down diaries, letters, and photographs to uncover the story of his great-uncle: a young man who died under tragic circumstances in the Battle of the Somme in 1916. Palin was inspired to walk the route that Harry took on the final day of his life and Great Uncle-Harry traces this journey: a moving tribute to an ordinary man and his extraordinary life.
Val McDermid joins us on 11 October with her much-anticipated new thriller Past Lying, the seventh book featuring the iconic DCI Karen Pirie who, this time, is investigating the disappearance of a University of Edinburgh student who has vanished from her doorstep. McDermid's clever brand of twisty crime fiction has won her legions of dedicated readers all over the world, and the publication of Past Lying proves total command of form. McDermid speaks to broadcaster Kirsty Wark in this very special event.
Both events will be hosted at the Assembly Rooms, 54 George Street, Edinburgh with shows starting at 7pm. Pre-signed books are available as an additional purchase at check-out with collection in-person in the venue.
Tickets go on sale Tuesday 12 September and are only available to buy online. Please note there is no allocated seating. Tickets £15.50 [concessions £13.50/£10.50]
We look forward to welcoming you back to the Book Festival.
More articles