More articles Tuesday 19 January 2021 12:52pm
Home-learning inspiration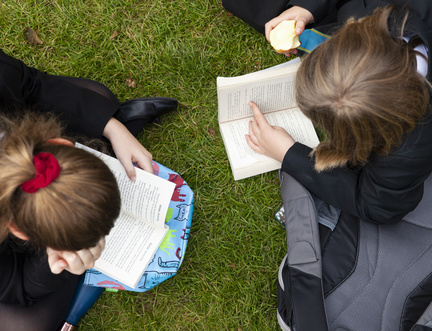 With home-learning back on the agenda for many families during the weeks ahead, we wanted to highlight a few of the many FREE online events, creative activities and learning resources we have available to help engage and inspire you and your children through this challenging time.

From DrawAlongs with illustrators such as Axel Scheffler, Dapo Adeola, Cressida Cowell, Dunja Jogan and Eilidh Muldoon, available on our Facebook page; and dozens of learning resources and lesson plans to compliment online events on our Learning Site; to a host of online events on our website and YouTube channel from our 2020 Children's Programme - as well as archived recordings from previous Book Festivals - suitable for children of all ages, we have your creative content needs covered!
To help you navigate through the numerous exciting events and activities across our website, YouTube channel, Learning Site and Facebook page, here are a few of our top recommendations for different age groups.

Ages 4-7
Magical Moggies with Philip Ardagh & Rob Biddulph - Go on an exhilarating railway adventure with Furry Purry Beancat before learning to draw the magical cat himself.
Pony Pals with Kate McLelland - Hear Kate's latest story about Isla and her mischievous pony Pickles while she draws along to bring the characters to life.
Picturing Tomorrow with Nadine Kaadan - Listen and watch as Nadine reads and draws from her beautiful story Tomorrow, based on the author's own experiences of the war in Syria. Then discover how books can help children find courage and hope during difficult times.
Four Seasons: Storytelling with Macastory - Our favourite storytelling duo present the enchanting folktale Four Seasons, with costumes, songs and a little magic!
DrawAlong with Nick Sharratt - The author-illustrator of Shark in the Park shows you how to draw some of his favourite animal characters.
DrawAlong with Lydia Monks - The fabulous illustrator of What the Ladybird Heard shows you how to draw a scene from her fun first-day-of-school book Mouse's Big Day.

Ages 8-11
Awesome Science Questions Answered with Dr Emily Grossman - The much-loved broadcaster, STEM ambassador and all-round science superstar uncovers the amazing scientific explanations behind seemingly every day questions (Learning Resource & video).
Get Adventurous with Lily Dyu and Helen Skelton - Be inspired to get active and get adventurous after hearing the stories of some amazing real-life superheroes (Learning Resource & video).
Taking Poems off the Page with Joseph Coelho - Get your voice-box bellowing and tongue twisting around some cracking poetry, created to read aloud (Learning Resource & video).
Formidable Females with Lari Don and Eilidh Muldoon - In this empowering event, join the talented Edinburgh-based duo as they unearth stories of heroines playing by their own rules, then watch as Eilidh brings them to life in her amazing illustrations.
Flying High with Chris Hoy and Flying Fergus - Strap on your helmet for a fun and fast-paced event celebrating the final book in the Olympic champion cyclist's fantastic Flying Fergus series (Learning Resource and video).
I Am - Writing a Self-Portrait Poem with Leyla Josephine - Grab a pen and piece of paper and join our Citizen Schools Writer in Residence for a fun poetry workshop all about you (Learning Resource and video).

Ages 12+
Malala Yousafzai - The inspirational education activist and Pakistan school pupil came to the Book Festival in 2014 to talk about her life and her determination that everyone has the right to an education - as relevant today as it was then.
A Fantastical Escape with Eoin Colfer, Cressida Cowell & Kiran Millwood Hargrave - Three of our best writers for children get together to discuss the joys of escaping through reading and creative writing.
Voices from the Past with Patrice Lawrence and Bali Rai - Two inspirational authors discuss their exciting new stories, showcasing some of the diverse, unsung historical figures who arrived on Britain's shores and made it their home (Learning Resource and video).
Dragons and Wizards with Cressida Cowell - Set in an ancient past full of mythological creatures, the age-old tale of a boy and girl from opposing tribes who become friends takes on a fantasy adventure twist in the third instalment of the Wizards of Once series.
Music from the Tinderbox Collective - The inspiring young musicians from Edinburgh's Tinderbox Collective have continued to meet and make music together online over 2020. This special event showcases their instrumental and vocal talents and some of their latest musical creations.

Young Adults
Shine On with Dean Atta & George Lester - Two boundary-pushing authors share their fabulous coming-of-age stories, beautifully and sensitively tacking subjects of identity, sexuality and self-empowerment (Learning Resource and video).
Poems for Today with Courtney Stoddart - In this urgent, commanding performance, hear acclaimed Scottish-Caribbean protest poet speak truth to power and encourage us all to be the change we want to see in the world.
Malorie Blackman - One of the UK's most influential children's authors, discusses her Noughts & Crosses series, which deals with subjects of racism, politics and terrorism.
Retelling Tales with Joseph Coelho, Juno Dawson & Kiran Millwood Hargrave - Three incredible retellings from three outstanding authors: find out why they were compelled to revamp classic tales for today's readers.

Inspiring adult events suitable for older children and Young Adults
Chelsea Clinton - Hear about the tenacious women who have fought for freedom in America, as well as those who are shaping global human history, from an author who continues to fight for the rights of girls and women everywhere.
Allie Esiri: A Poem for Every Autumn Day with Helena Bonham Carter, Jamael Westman and Tobias Menzies - A star-studded cast perform poems from Esiri's beautifully curated poetry anthology A Poem for Every Autumn Day.
Chris Packham - The presenter of BBC's Springwatch shares stories of a childhood immersed in the natural world, and a passion and obsession for wildlife which would shape him into one of our best-loved and most respected naturalists.
Representation Matters with Jessica Love and Hannah Lee - Join two acclaimed authors for readings and live discussion on the importance of children seeing themselves represented in the picture books they read.
Surviving a Nervous Planet with Matt Haig - The celebrated novelist and journalist reflects on the complex relationship between literature and mental health (Learning Resource and video).
Akala - The MOBO award-winning hip hop artist, poet and political commentator reflects on his experiences growing up and throughout adulthood, connecting them to the social, political and historical context that have led us to where we are now.
Get creative with it!
We realise online learning isn't for everyone, and that too much screen-time can make us all feel a bit fatigued. Here are a few fun hands-on activities to help spark the imagination and encourage children to think creatively about what they're watching, away from their device:
Make tickets or a poster for the event.

Get dressed up as a favourite book character before or after watching. Could you act out a scene from the story in character?

Make a picnic or serve ice-creams or snacks (pretend or real) to enjoy with the show.

Draw/ paint/ collage a character or scene from one of the books discussed in the event.

Do a writing activity about something covered in the event - you could write a story, a poem or a thought-piece about the characters, issues or themes explored.

Think of questions you would like to ask the author/s. Do the authors have websites, or social media accounts? A parent, carer or teacher could help you write a letter, email, or message to them. How do they respond?
And don't forget, there's no substitute for just sitting down with a good book. Whether you have little ones who need to be read to, or confident older readers, reading at home is not only wonderfully enjoyable, but a fantastic way to help boost school performance - increasing vocabulary, raising self-esteem and building good communication skills. It is also proven to help lower stress levels, alleviate symptoms of depression and enable us to sleep better. Enough said!
More articles