More articles Friday 29 April 2016 9:05pm
LandWords returns in May after success in April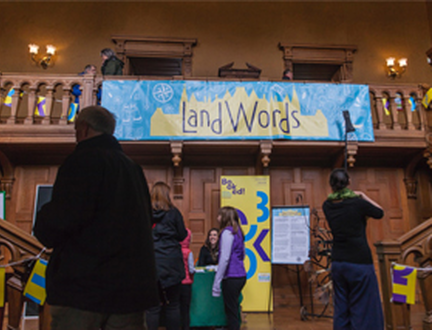 Download PDF
If you dropped in to LandWords this month, thank you! A fantastic weekend of words, fun and creativity has been embellished by news that we increased average April weekend attendance at Callendar House by 50%, bringing an historic mansion to life with literature, laughter, art and adventure.
Whether you came along and soaked up the fantastic atmosphere or not, make sure to check out our Flickr gallery of photos from the event, and get a sense of what you can expect come 14 and 15 May.
With the help of local people — and plenty from further afield too — we told stories of Falkirk past and present, from old and young, getting a sense of the passions, fears and dreams of attendees.
Award-winning author Kerry Hudson and performance artist Donna Rutherford worked with pupils of Graeme High School — situated just a few hundred yards from the house — as well as LandWords visitors to gather these tales.
We're working with Kerry and Donna to produce an anthology of the project's creative output, which will launch at our May weekend, and there's a chance to meet the pair, both inspiring and successful artists in their own right, at a discussion event on Sunday 15 May.
That event is part of our next LandWords weekender, now just a fortnight away — make sure to grab your tickets soon! We've added two new events: award-winning writer and one of our readers at Falkirk Voices, Janet Paisley, will lead a reading workshop on Nobel Laureate Alice Munro's powerful story collection, The View from Castle Rock, on Saturday 14 May; while author James Crawford discusses Earth's iconic ruins from the dawn of civilisation to the cyber age, which feature in his new book Fallen Glory, on Sunday 15 May.
We have a limited number of Day Passes available for both Saturday and Sunday, letting you attend every event on either day for just £12 (£9). Why not delve into the world of The Cone Gatherers, explore The Secret Garden, learn about poet Norman MacCaig and solve a Marple mystery before catching Janet's workshop? Or stuff your Sunday full of great discussions with authors including Kelpies sculptor Andy Scott, Linda Cracknell, James Crawford and Scottish literary star James Robertson?
That's not all: stars of our April event Macastory will be back with a fun final storytelling session, plus there are children's paper model making workshops with Rachel Hazell, rehearsed play readings in the Georgian Kitchen, swan pedalos on the lake, and a whole host of other free creative happenings showcasing the LandWords project output to experience!
The full May programme can be downloaded as a PDF; direct event and ticket links are embedded within this. All tickets are available from Ticketsource. Day Passes must be booked in person at Falkirk Stadium (Mon-Fri) or at Falkirk Town Hall (Sat), or by calling 01324 506850.
Sign up to our emailing list to receive regular updates about our Booked! programme, events similar to LandWords, and Edinburgh International Book Festival news.
LandWords is produced by Edinburgh International Book Festival's Booked! programme, in partnership with Falkirk Community Trust. Booked! is Edinburgh International Book Festival on the road around Scotland throughout the year, and is supported by players of People's Postcode Lottery. LandWords is supported by Falkirk Community Schools Charity, and is part of Festival of Museums 2016.
More articles