More articles Wednesday 11 June 2014 11:59am
Let's Talk at the Edinburgh International Book Festival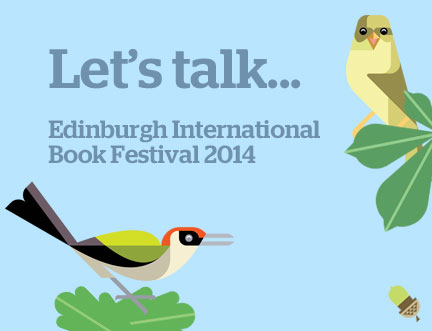 The 2014 Edinburgh International Book Festival programme has been revealed with the headline 'let's talk' inviting audience members to engage in dialogue on a host of diverse and fascinating topics.
Whether it's exploring the disappearing art of letter writing, appreciating the power of the spoken word or debating the future of Scotland, this summer will see internationally-renowned writers and thinkers gather in Charlotte Square Gardens to engage in provocative and inspiring conversations.
Nick Barley, Director of the Edinburgh International Book Festival said 'The Book Festival provides a crucial forum for dialogue, where we can listen to and learn from one another, particularly in this year of momentous events in Scotland. Our thought-provoking conversations with both authors and audiences will permeate through Charlotte Square Gardens as we welcome world-renowned writers and thinkers from many countries and cultures to Edinburgh, some for the first time in their careers. We offer a platform for emerging voices that are set to shape the world's literary stage in years to come and launch some of the most talked-about books of the year.
'Whatever the outcome of the vote on 18 September, we provide a space to view the coming changes from the wider context of the historical events that brought us to where we are today – from the Battle of Bannockburn to the end of WWI and the British Empire, the creation of the Commonwealth, the recent economic hardships and even last month's European Elections.'
From inner monologues and imaginary friends to the demanding character voices that a novelist creates, voice hearers will be the focus of a strand of events called Conversations with Ourselves. Working with Durham University's Hearing the Voice project, and with the support of the Wellcome Trust, authors and scientists will join forces to take a closer look at the medical, historical, spiritual, anthropological and literary aspects of voice hearing.
For our Scotland's Future strand of events we'll provide a neutral forum to facilitate broad, open-minded dialogue between authors and audience members who are keen to look forward and envisage the shape of things to come after the referendum. Taking part in these events, which will look at the arts, economy, immigration, democracy and the future of Europe, are Linda Colley, Iain Macwhirter, James Robertson, Lesley Riddoch, Tom Devine and Henry McLeish.
An eclectic range of voices from Britain's cutting edge Spoken Word scene will be heard in Charlotte Square Gardens. The Babble On series of events, staged in partnership with performance poet Luke Wright and produced by Becky Fincham, features Phill Jupitus as Porky the Poet, Elvis McGonagall, Hollie McNish and Hannah Silva, interactive theatre makers Hannah Jane Walker and Chris Thorpe and poets William Letford and Rachel McCrum amongst others.
Stepping into the role of Guest Selector this year are Richard Sennett chairing a series of events about Turning Points for Civilisation, Ali Smith who'll explore the power of words, Raja Shehadeh will take a fresh look at the Middle East and Lauren Child will host a series of events looking at creating believable worlds in children's literature.
The spirit of dialogue continues in an exciting new collaboration with multi award-winning Scottish theatre company Grid Iron. The Book Festival has commissioned four internationally acclaimed writers to produce brand new pieces of short fiction which have been adapted into a promenade theatre production, Letters Home, which is supported by the Scottish Government's Edinburgh Festivals Expo Fund and is part of the Glasgow 2014 Cultural Programme.
Once again, the Book Festival continues to champion emerging talent with its First Book Award which this year features the debut work of 46 authors including Kirsty Wark, James Naughtie, best-selling authors Clemens J Setz from Austria, Brazil's Daniel Galera and Kuwait's Mai Al-Nakib, alongside lesser known names.
We're also welcoming a host of internationally acclaimed writers, some of whom are making their first visit to the Edinburgh International Book Festival, including Haruki Murakami who will launch the English edition of his latest novel Colorless Tsukuru Tazaki and His Years of Pilgrimage which sold a million copies in Japan in the first week of publication. Also launching brand new books are Martin Amis, Will Self, Amy Bloom, Sarah Waters, Alan Warner, Esther Freud, John Lanchester and Nicholas Parsons.
Other bestselling authors appearing at the Book Festival for the first time include George R R Martin and Diana Gabaldon. South African literary heavyweights Damon Galgut and Zakes Mda will be joined by Mpho Tutu, Michel Laub from Brazil and Germany's Julia Franck.
Some familiar faces making a welcome return include Bonnie Greer, Graham Swift, Jung Chang, Margaret Drabble, Richard Dawkins, Max Hastings, former Archbishop of Canterbury Dr Rowan Williams who'll introduce his new poetry collection, and Lydia Davis who'll make her first visit to the UK since winning the Man Booker International Prize.
This year's Baillie Gifford Children's Programme will also celebrate dialogue and storytelling in its many forms, from music and song to poetry and illustration. Established names including Children's Laureate Malorie Blackman, Julia Donaldson, Patrick Ness, Kristina Stephenson, Darren Shan and Cathy Cassidy sit alongside exciting, emerging talent such as Mackenzie Crook, Steven Camden and Sally Green. Children of all ages will be able to enjoy stories from many vibrant nations including Ethiopia, Australia, New Zealand, Canada and Ireland, on a wealth of subjects from Vikings to the First World War, while James Mayhew, creator of the Katie's Picture Show books, will be drawing up a storm as the Book Festival's Illustrator in Residence.
The full programme of events is available on the Book Festival website and in the brochure. Tickets will go on general sale on Tuesday 24 June.
More articles