More articles Monday 24 July 2017 11:00am
New Book Festival 'How To Read A Novel' Online Course Begins With Over 10,000 Readers Taking Part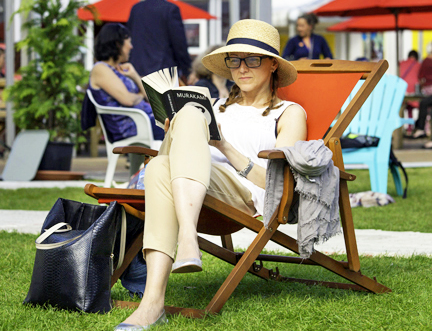 Today, our 'How To Read A Novel' online course, created in collaboration with the University of Edinburgh begins, with over 10,000 people signed up to take part so far.
The course aims to help book lovers get the most out of their reading and draws on an array of texts, from the classics to contemporary works. The most recent examples will be drawn from the fiction shortlist for the James Tait Black prize – Britain's oldest book prize - which will also feature in a series of events at this summer's Book Festival, including the James Tait Black prizegiving event on Monday 14 August.
The Massive Open-access Online Course, or MOOC, will take readers on an insightful journey giving them the tools to appreciate works of fiction, and examine what makes a good novel. Course leaders from Edinburgh University's Department of English Literature will give participants an introduction to the four key elements found in most fiction – plot, characterisation, dialogue and setting. Videos, quizzes and discussions will also be used to explain fundamental concepts. Students can interact with other readers and writers via a discussion forum, reading or posting questions and replies.
The James Tait Black prize events at the Book Festival will take place on Sunday 13 and Monday 14 August. Shortlisted authors Garth Greenwell (for What Belongs to You) and Eimear McBride (for The Lesser Bohemians) join course author Dr Alexandra Lawrie for a discussion of their work at 11.00am on Monday 14 August – you can still get hold of tickets on our website. This event follows a conversation between Lawrie and shortlisted author of A Country Road, A Tree, Jo Baker, on 13 August which is already sold out.
Then, join us on Monday 14 August at 6.45pm for a special event during which the winners of the 2017 James Tait Black Prizes will be announced by broadcaster Sally Magnusson – tickets available now. The James Tait Black Prizes are awarded annually by the University of Edinburgh for books published during the previous year – one for best work of fiction and the other for best biography.
Speaking about the start of the exciting new online course, Book Festival Director Nick Barley said, "The Edinburgh International Book Festival began awarding the James Tait Black prizes 10 years ago, and over the years, they have been exceptionally accurate in identifying literary works that stand the test of time. This new online short course is a ground-breaking initiative that builds on the best of what university literary teaching has to offer and adds to it the thrill and excitement of live events hosted by the Book Festival, the largest and most dynamic festival of its kind in the world."
You can still sign up and take part in the MOOC by visiting the FutureLearn website.
You can buy tickets for the James Tait Black prize events on the Book Festival website or by calling the Box Office on 0845 373 5888.
More articles