More articles Thursday 17 June 2010 12:00am
The 2010 Programme Revealed – New World Order Explored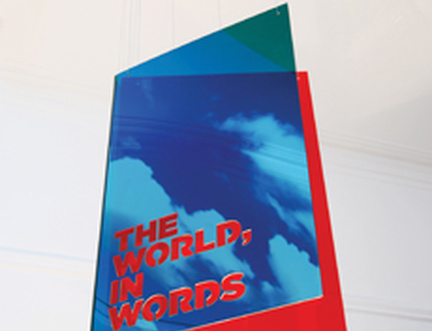 We unveiled our 2010 programme this morning which contains a plethora of prize-winning authors – and a new audience award celebrating over 40 debut writers - who will be appearing in Charlotte Square Gardens with us this August. With Booker, Orange, Costa, Turner and Pulitzer Prize Winners, Nobel Laureates and Poets Laureate amongst the authors, politicians, journalists, poets, photographers and artists, the Book Festival promises a summer of rich debate, entertainment and inspiration.
Nick Barley, Director of the Edinburgh International Book Festival said, "I believe that writers are fundamental to our understanding of the world; away from the barrage of instant news, writers give a more subtle perspective on everything from complex economic problems to personal issues in our day to day lives. The Book Festival gives us a wonderful opportunity to bring these perspectives into focus as we look at the world we live in today. From an extraordinarily exciting collection of debut authors to our new Unbound evening programme, we are looking forward to exploring a wealth of new talent and ideas."
"This year we will be looking at the new world order and particularly at the USA's place in this world with an ambitious survey of American contemporary writing. We welcome acclaimed novelists Joyce Carol Oates, Lionel Shriver, and Amy Bloom, controversial cultural theorist David Shields and Nobel Laureate Joseph Stiglitz. The American strand includes over 45 authors such as Garry Trudeau whose Doonesbury strip is one of the most published cartoons in the world, Bill Clegg, David Vann, Willy Vlautin, Leanne Shapton, Simon Rich and Adam Ross."
The Book Festival opens on Saturday 14 August with Philip Pullman debating his re-imagined story of Christianity, The Good Man Jesus and the Scoundrel Christ, with Richard Harries, formerly Bishop of Oxford and Dean of Kings' College London. The Festival closes on Monday 30 August with Portugal's greatest living writer, and Nobel Laureate, José Saramago.
Packed in between are over 750 authors from 50 different countries including James Robertson, Nicholas Parsons, Candia McWilliam, Fay Weldon, Lydia Davis and Jo Shapcott who will all be launching their new books, while Vidal Sassoon, Seamus Heaney, DBC Pierre and Roy Hattersley will be giving sneak previews of books published in September. The Poet Laureate, Carol Ann Duffy, will be previewing her new collection of poems to be published in 2011.
A programme of evening debates runs through the Festival, which will reflect discussions held in events earlier each day. In the first week, chaired by Alan Little, participants will look at geo-politics – America, China, the impact of the wars in Iraq and Afghanistan and the shape of the new Europe after the fall of the Berlin Wall - with a plenary session entitled The New World Order bringing together the conclusions of the week's debates. The second week will be chaired by Ruth Wishart and will tackle the more personal issues of happiness, fear, fun and wealth.
New innovations for 2010 include the inaugural Readers' First Book Award which celebrates new writing. All 47 authors bringing their first UK published novel or short story collection are eligible. The award will encourage audiences to discover the Booker Prize winners or Nobel Laureates of the future, to read the books, come to the events and to vote online for their favourites before the end of October. The Book Festival also moves into new ways of engaging with literature, with a mini-festival Unbound. A mix of readings, music, performance and a healthy dose of the unexpected, Unbound will take place every evening in the Highland Park Spiegeltent and will be free and unticketed. Full details of the Unbound programme will be announced in July.
In another innovation, the Book Festival has worked with Guest Selectors who have brought their own perspective to an area of particular interest to them. Don Paterson, the internationally renowned Scottish poet, has worked with the Scottish Poetry Library to advise on a selection of poets, while Ruth Padel, great great-granddaughter of Charles Darwin, has selected events focused on parents and their relationships with their children. Stuart Kelly, Literary Editor of Scotland on Sunday, has put together events looking at the Future of Fiction and Steve Bell, the legendary Guardian cartoonist, will explore the power of political satire.
The theme of the RBS Children's Programme this year is Blast Off to Adventure, and Director, Sara Grady, has programmed a strong mix of Scottish, British and international fiction and non-fiction, looking at exploration in its broadest sense. An Australian showcase welcomes Garth Nix, Simmone Howell and Isobelle Carmody together with the Book Festival's 2010 Illustrator in Residence, Tohby Riddle. With a focus on young adult fiction, John Green, Michael Grant, Patrick Ness and Louise Rennison will be attending, together with Robert Muchamore who brings an exclusive preview of his new book.
Tickets go on sale at 8.30am on Saturday 26 June.
by telephone on 0845 373 5888 or in person at the Edinburgh International Conference Centre on Morrison Street (Saturday 26 June) and then at The Hub on Castlehilll (from Sunday 27 June to Thursday 13 August).
You can browse the RBS Children's Programme here on the website or download a copy of the brochure.
More articles