More articles Thursday 21 June 2012 12:05pm
The 2012 programme: rethinking the world around us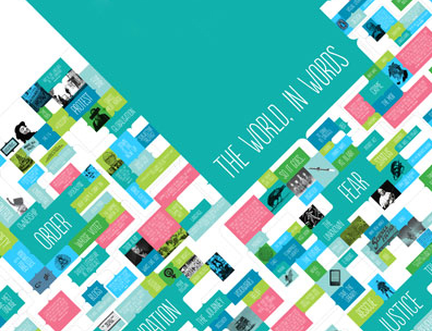 Today we launched the 2012 Book Festival programme which invites visiting authors and audience members to rethink the world around us.
From 11 to 27 August over 800 authors, poets, illustrators, journalists and politicians, from Scotland and beyond, will join members of the public in Charlotte Square Gardens to discuss and deliberate today's important issues, from Scottish Independence to perspectives on the planet's resources.
The Book Festival will also see the start of the Edinburgh World Writers' Conference 2012-13, where over 5 days, 50 world-class authors will debate the hottest literary topics in front of a live audience in the RBS Main Theatre. The conference events, which are inspired by a historic gathering of writers in 1962, will be broadcast online, enabling people across the globe to join in the conversation.
Book Festival Director Nick Barley said: 'We are delighted to showcase some of the best Scottish writing, from well-established authors to debut novelists, as well as welcoming some extraordinary literary talent from around the world to help us rethink aspects of society that affect our everyday lives. This is a year for taking stock about what matters to us in a time of uncertainty, doubt and data overload…we look forward to a lively, informed and informative debate.'
Bringing their own perspective to proceedings we are delighted to welcome broadcasters James Naughtie and Sue MacGregor as our Guest Selectors. Naughtie will take a look at 'Britain Today' with politicians Tom Watson, Paddy Ashdown and Alistair Darling, novelist Zadie Smith and poet Ruth Padel, whilst Sue MacGregor will host a series of events under the heading 'A Survival Kit for the Information Age' featuring Maajid Nawaz, Prue Leith, Charles Ferguson, Tessa Hadley, Sarah Hall and A L Kennedy.
Prolific and hugely popular children's writer Vivian French is our Guest Selector for the RBS Children's Programme. Vivian's events will explore the 'Power of Words Through Play', encouraging children of all abilities to read with real passion. The RBS Children's Programme also features a stellar cast of well-loved children's authors and illustrators sure to delight our younger audience members including Children's Laureate Julia Donaldson, Michael Morpurgo, Andy Stanton and Jacqueline Wilson. David Walliams will entertain fans with his new book Gangsta Granny, whilst crime writer Val McDermid will present her first foray into children's fiction, My Granny is a Pirate.
This year our Illustrator in Residence is Chris Riddell, political cartoonist for The Economist and The Observer and co-author of The Edge Chronicles children's books. Chris will host a series of events and workshops exploring the ways in which illustration can enhance the pleasure of reading, including special events with Paul Stewart and Neil Gaiman.
We are delighted to host a number of book launches this year, including titles by Ian McEwan, James Kelman, Will Self, Pankaj Mishra, Pat Barker, Gavin Esler and Louise Welsh while Zadie Smith, Howard Jacobson, Val McDermid and A N Wilson will offer exclusive previews of their forthcoming novels.
Once again we are celebrating the debut fiction in our programme with the Anobii First Book Award. 45 outstanding works of first fiction are in the running for this year's award, the winner of which will be chosen by readers and Book Festival audiences.
Our ever popular and free late-night Unbound events will make a welcome return to the Guardian Spiegeltent, providing a touch of the unexpected to the Book Festival line-up. Details of the Unbound programme will be announced in July in the Skinny and on our website.
This year's Festival promises an awful lot to look forward to - 17 days of discussion, exploration and debate with the greatest writers and thinkers in the world today. You can browse the full line up of events on our website, download a copy of the brochure, or read the digital brochure online.
Tickets go on sale on Friday 29 June at 8.30am. Full details about how to book can be found on our website or on page 83 of the brochure.
More articles