More articles Wednesday 02 March 2011 10:32am
Children's Trio Scoop Royal Mail Awards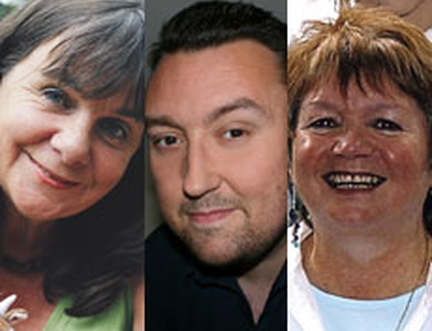 Three of the Book Festival's favourite children's authors have scooped this year's prestigious Royal Mail Awards for Scottish Children's Books.
The inimitable Julia Donaldson won the Early Years category for her sumptuous picture book What the Ladybird Heard. The book tells the tale of a beautiful glittery ladybird who, with the help of her animal friends, outwits two burley would-be thieves.
Barry Hutchison's debut novel Invisible Fiends – Mr Mumbles, a chilling tale of an imaginary childhood friend who returns for revenge, topped the poll in the Young Readers category.
The Older Readers award was given to Catherine MacPhail who claimed her second Royal Mail award for Grass, her hard-hitting teen novel which tells a chilling story of gang culture and revenge.
The Royal Mail Awards are voted for exclusively by Scottish children and this year a record number of youngsters cast a vote for their favourite book. The winners were announced at circus-themed extravaganza in Glasgow which was attended by children from across Scotland.
Julia, Barry and Catherine have each delighted Book Festival audiences in recent years. We wish them all our heartfelt congratulations, and we look forward to welcoming them back to Charlotte Square in the future.
More articles