More articles Monday 04 November 2019 10:40am
First Book Award Winner Announced: Argentinian Writer Selva Almada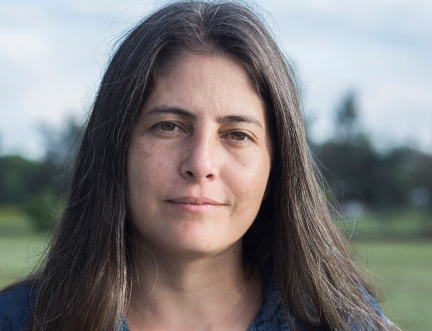 We are delighted to announce that Argentinian writer Selva Almada has won the Edinburgh International Book Festival's 2019 First Book Award with her debut novel, The Wind That Lays Waste. The novel, which was nominated for the Argentinian Book of the Year Award when published in 2012, has been translated by Chris Andrews and published by Charco Press in English for the first time this year.
Our First Book Award is designed to celebrate the wealth of new fiction across the public programme, shedding a light on exciting new voices and giving readers and visitors the chance to choose their favourite. This year 46 debut novelists and international writers published in English for the first time were eligible for the award, including a selection of young adult fiction.
Selva Almada is one of the most powerful voices in contemporary Argentinian literature and a rising star of Latin American fiction. In Spain she has been a finalist of the Rodolfo Walsh Award and of the Tigre Juan Award. Almada also has a reputation as one of Argentina's most prominent feminist intellectuals and her work has been translated into French, Italian, Portuguese, German, Dutch, Swedish and Turkish.
Her debut The Wind That Lays Waste exquisitely crafted, providing a profound, poetic and tangible experience of the landscape. It is told with the cinematic precision of a static road movie, like a Paris, Texas of the south. The Wind That Lays Waste is a distinctive novel that marks the arrival in English of an author with undeniable talent.
The novel was a clear favourite with voters, who commented: "This book is a masterpiece: beautiful, sparse, dark and descriptive with characters that feel so real you could swear you've crossed paths with them at some forgotten roadside outpost" and "One of the best books I've read in a long time. Its prose is filled with a deep understanding of the human condition, love and sorrow."
On the win Selva Almada said "I am very pleased that my book has been chosen by the readers. The Wind that Lays Waste is the first novel I ever wrote and the one that opened doors for me to thousands of readers not just in my country, but also in a wide array of places such as Sweden, Brazil, France, Portugal, Germany, Holland, the US… and now, the UK. The edition that Charco Press has produced is one of the most beautiful, and through this award I celebrate the meticulous and loving labour of this publishing house. I am very grateful to the Edinburgh International Book Festival. I truly enjoyed my participation and my visit to the city last August. This award is an unexpected gift; the best sign for all my books to come in the UK. Many, many thanks."
You can find out more about all the writers and books that were eligible for the award on our First Book Award page and look out for the 2020 nominees announced in June.
More articles