More articles Wednesday 23 October 2013 5:15pm
Home-grown talent finds First Book Award success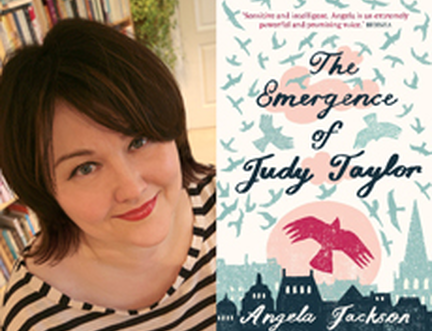 Edinburgh author Angela Jackson has won the 2013 Edinburgh International Book Festival's First Book Award, sponsored by eBooks by Sainsbury's, for her stunning debut novel The Emergence of Judy Taylor.
The First Book Award showcases the wealth of talented new writers to appear in the Book Festival programme each year and every one of the debut novels, novellas and short story collections featured at the Festival is eligible for the award. The winner is selected by a public ballot with readers voting for their favourite.
Angela Jackson first performed in front of a Book Festival audience in 2010 when she read from an early draft of The Emergence of Judy Taylor as part of Edinburgh UNESCO City of Literature's Story Shop which supports the city's emerging writers. By 2012 she had secured her first publishing deal. On winning the award she said: 'This award is particularly special to me because it's my first, and it's from one of my absolute favourite events of the year. I'm extremely grateful to everyone who has bought the book and voted for it, and to the booksellers in Edinburgh and beyond who have championed it. It's great to know I'm on the right track – that my work is connecting with readers – and it will spur me on to complete my second novel.'
The book, which follows the eponymous Judy as she steps off the path of least resistance to embark on an adventurous journey into a life unknown, was described by one reader as 'thought provoking and funny' and by another as 'a refreshing read that creates a host of characters so real, you'll be wondering what they are up to long after you've read the final page'.
Book Festival Director Nick Barley described Angela Jackson's win as 'a wonderful, home-grown success story.'
Read more about Angela Jackson on our website and see the full list of 42 debut authors who were in the running for this year's First Book Award.
More articles