More articles Thursday 27 July 2017 1:00pm
Iranian Illustrator Ehsan Abdollahi's Visa Refusal Overturned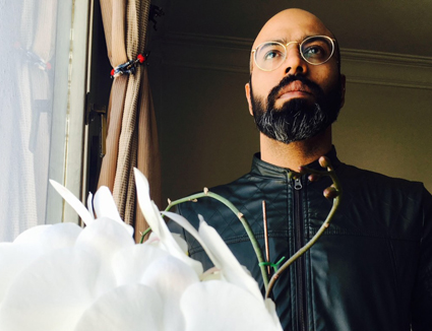 We are absolutely thrilled to share news of a happy ending to the story of Iranian illustrator Ehsan Abdollahi's visa. Abdollahi, illustrator of When I Coloured in the World and A Bottle of Happiness, initially had his visa application refused for his planned visit to the Book Festival this August. Now, after enormous public support, the decision has been overturned and his application has been granted – meaning that Abdollahi's events in Edinburgh can now go ahead as planned.
Delaram Ghanimifard, Abdollahi's publisher at Tiny Owl said: "We're delighted that the embassy has overturned their decision to grant Ehsan Abdollahi's visa. This is a real testament to the support Ehsan has received over the last week and we thank everyone who wrote to their MPS, shared the #VisaForAbdollahi hashtag and bought books in protest. We hope that for us, and for other publishers, this will set a precedent for artists wanting to come to the UK in the future. Stories help us understand different cultures and people as well as find our own similarities with them. Through meeting the artists that create these stories, children's own literary and imaginative landscape grows and a greater understanding between cultures is developed. We believe that stories act as bridges – so from Ehsan and all of us at Tiny Owl, to everyone who helped us to keep building these bridges, thank you."
Book Festival Director Nick Barley said: "I am absolutely thrilled for Ehsan Abdollahi, and for all the people who will now be able to meet him in Edinburgh. But more fundamentally I am relieved that an artist has been granted permission to travel to the UK from Iran and talk about his work at the Book Festival this summer. Now more than ever, we need to hear people like Ehsan talking about their ideas."
Book Festival Children and Education Programme Director, Janet Smyth added: "Ehsan's exquisite illustrations deserve a wide audience and I am excited that he will be able to appear with the author Pippa Goodhart to talk about their book, A Bottle of Happiness. And I'm proud that a brilliant independent publisher like Tiny Owl will have the opportunity to celebrate their work in front of our incredibly enthusiastic Edinburgh readers."
To support the work of this brilliant Iranian illustrator, come along to one of his events at the Book Festival on Monday 14 or Tuesday 15 August. You can find a full list of his events and buy tickets on the Book Festival website or by calling the Box Office on 0845 373 5888.
More articles