More articles Friday 07 April 2017 11:45am
Launch of ReimagiNation: Cumbernauld Programme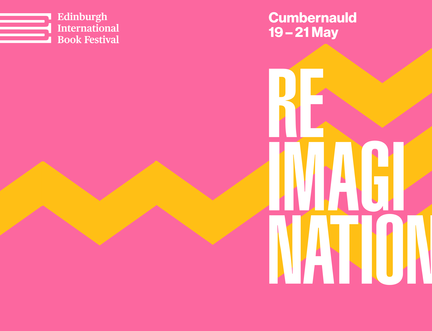 Last night we launched the programme for a new Festival, ReimagiNation: Cumbernauld, which takes place from Friday 19 to Sunday 21 May 2017. Writers, artists, musicians and poets including Liz Lochhead, Denise Mina, Jenny Colgan and Graeme Macrae Burnet will join audiences in celebrating science fiction, crime writing, poetry, football and the stories of Cumbernauld's residents.
ReimagiNation: Cumbernauld is part of the Book Festival's Booked! programme of events which is supported by players of the People's Postcode Lottery, and is part of a new five-stop tour of the Scottish New Towns, marking 70 years since the passing of the Scottish New Towns Act.
The programme for ReimagiNation: Cumbernauld has been developed using the results of a survey conducted with Cumbernauld residents. Over 400 responders expressed an interest in the stories and architecture of Cumbernauld, crime writing and events for all ages. Audiences at the Festival can therefore meet renowned Scottish crime writers Denise Mina and Graeme Macrae Burnet; take a guided walk of the town in the company of local architectural historian Diane Watters and Miles Glendinning bookended by visits to two impressive modernist churches – Sacred Heart and St Mungo's; enjoy tea and cake with a showcase of Cumbernauld stories old and new developed from Daniel Gray's residency with group members at CACE Older People Active Lives and Mike Nicholson's residency with four of Cumbernauld's primary schools and join in a debate about the future of Cumbernauld and what lessons can be learned from this New Town.
Former Scottish Makar Liz Lochhead, who was once an art teacher in Cumbernauld, takes her audience on a journey through her poetry and inspirations and in a separate reading workshop explores the work of her friend and Scotland's first Makar Edwin Morgan. Jenny Colgan, writer of Dr Who stories and other science fiction work, offers a lively reading workshop exploring the classic, award-winning sci-fi novel A Wrinkle in Time by Madeline L'Engle.
Theatre maker Ishbel McFarlane will present sessions of her new performance piece, Plan, an interactive experience in which everyone designs and builds a settlement for displaced people – effectively recreating Cumbernauld for the 21st century. A fun activity where adults and children can experience the rewards and pitfalls of town planning.
Children and families can also enjoy the Big Book Bonanza with a host of their favourite authors including Lari Don, David MacPhail, Barry Hutchison, Mark A Smith and Jenny Colgan; an alternative Cumbernauld with storytellers Macastory and even a learn to play the ukulele in a free workshop.
To find details of the full programme for ReimagiNation: Cumbernauld please visit http://booked.edbookfest.co.uk. Tickets for all events are on sale now, and are available to book online, by phoning 01698 274 545 or in person at Cumbernauld Library and Motherwell Concert Hall (Mon – Fri, 9am – 4.45pm). Most tickets cost £5 (£3.50 concessions) and there are a number of free events.
Download a PDF version of the printed programme by clicking on this link:
Programme
.
ReimagiNation rolls onto East Kilbride and Irvine in August, where authors from the Edinburgh International Book Festival will travel from the capital to meet new readers. In 2018 the tour continues to Glenrothes and Livingston. ReimagiNation is part of Booked!, the Edinburgh International Book Festival on the road around Scotland throughout the year, supported by players of People's Postcode Lottery, and in Cumbernauld is produced in partnership with Culture NL.
More articles