More articles Thursday 27 October 2016 10:00am
YA Author Wins 2016 Book Festival First Book Award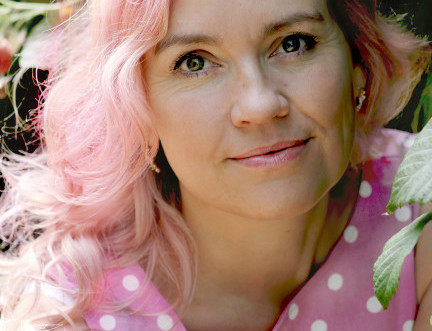 We're delighted to announce today that YA author Kathryn Evans is the winner of the 2016 Edinburgh International Book Festival First Book Award for her debut novel, More of Me, a gripping and thought-provoking story of growing up and teen identity. All 46 debut novels and short story collections for adults and young adults featured in the Book Festival public programme this year were eligible for the Award, which is voted for by readers and visitors to the Festival. This is the first time in the seven years of the Award that a YA novel has won.
Kathryn Evans said, "I am stunned to have won this award – when I saw the calibre of the other authors I thought I didn't have a hope. So often children's fiction is seen as the poor cousin to adult books – yet in it, we tackle some of the hardest subjects in the most innovative of ways. I am so proud to hold the banner up for YA fiction.
"I had such an amazing time at the Edinburgh International Book Festival, this award is the most delicious icing on an already fabulous cake. Thank you to the Festival team for inviting me, to Usborne for publishing me, and to Sophie Hicks, my amazing agent, for sticking with me all this time. But most of all, a huge thank you to everyone who voted for More of Me – especially the teenagers, let no one tell you you're apathetic because I know that you are full of passion. Readers, you stars, thank you for voting and making this happen. I owe you all the cake, you are wonderful."
Following a degree in drama and a short career in theatre, Evans decided that she needed a 'proper job' so set up a strawberry farm and then turned her hand to writing. In addition to penning her debut novel, running the fruit farm in West Sussex and raising two children, she loves to belly dance and fences competitively. She is Finance Co-ordinator for the Society of Children's Book Writers and Illustrators in the British Isles and regularly travels across the country delivering writing workshops for teenagers and adults. Evans lost her mother at a young age and More of Me is partly inspired by her own childhood.
More of Me, published by Usborne, is the extraordinary story of sixteen year old Teva whose life seems normal: school, friends, boyfriend. But at home she hides an impossible secret. Eleven other Tevas. Because once a year, Teva separates into two, leaving a younger version of herself stuck at the same age, in the same house... watching the new Teva live the life that she'd been living. But as her seventeenth birthday rolls around, Teva is determined not to let it happen again. She's going to fight for her future. Even if that means fighting herself.
Janet Smyth, Director of the Children's and Education Programme at the Edinburgh International Book Festival, said, "The First Book Award is such an important element to our Festival programme and one of the most exciting ways for us - and our audience - to discover emerging writers. I read Kathryn's novel, More of Me, in manuscript form last autumn and I was immediately gripped by her characters and impressed by the subtle and skilful storytelling. She is a hugely deserving winner and a very exciting new voice in YA fiction and I can't wait to see what she writes next."
The First Book Award encourages people to discover the wealth of debut fiction featured in the Book Festival programme each year and vote for their favourite. Every adult and young adult writer whose debut novel, novella or short stories was featured in the public programme in Edinburgh in August, including those whose work was published in English for the first time, was eligible for the Award. Readers and Book Festival audiences were able to vote at the Festival or online and over 2,000 votes were received by the closing date. Every book eligible for the Award received at least one vote.
More articles