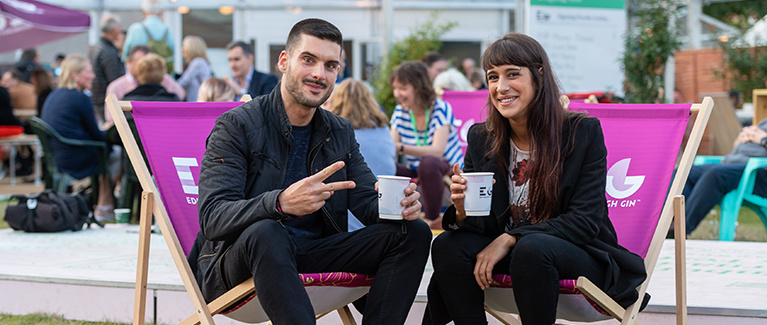 Contact sponsorship@edbookfest.co.uk to receive our Sponsorship Overview and find out more about what Edinburgh International Book Festival can do for your organisation.
We can offer you high profile association with the world's most renowned writers and thinkers, exposure to a diverse local and global audience, and exclusive promotional opportunities. Our festival site is also the perfect place to host hospitality receptions for your chosen guests.
As a registered charity, your support can make a significant impact on the Book Festival's work whilst also offering you a wide range of valuable benefits.
Sponsorship Opportunities
Become a Sponsor or Major Sponsor with opportunities including:
Author Event Sponsorship
Venue Sponsorship
Event Strand Sponsorship
Hospitality
Bar Sponsorship
In-Kind Sponsorship
Sponsorship of our community and education work
Sponsorship Benefits
Sponsorship benefits include:
Logo accreditation
Hospitality
Hot Tickets
Branding opportunities
Venue naming rights
Exit leafleting
Product sampling
Online marketing
Bookshop perks
Invitations to exclusive events with networking opportunities
Bespoke opportunities
Please note that the benefits included in your sponsorship package will depend on the fee and type of sponsorship.