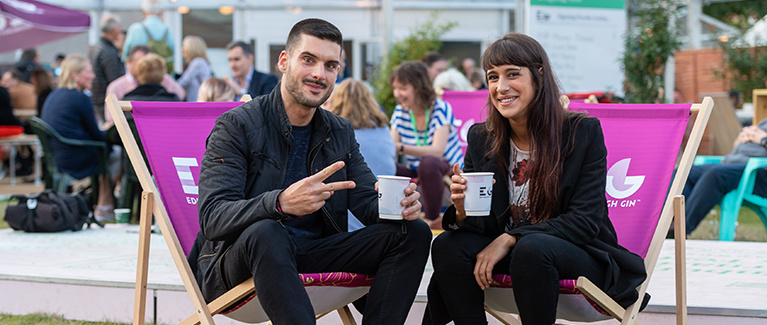 Become a Sponsor of the Edinburgh International Book Festival
By sponsoring the Book Festival you can contribute to the success of the world's premier literary Festival and help us achieve our aim of revealing the world in words by bringing books and ideas to a wide audience, encouraging the lively exchange of thoughts and opinions, and stimulating open and fruitful debate.
In return you'll receive branding opportunities online and across the Festival site, as well as access to a highly engaged local and international audience enjoying events in person or online. You'll have access to unique hospitality experiences for your chosen guests, and your organisation will be associated with the largest public festival of its kind in the world.
Find out more about our range of sponsorship opportunities, including author event sponsorship, and see how sponsoring the Edinburgh International Book Festival can benefit your organisation.
"The Open University in Scotland is proud to have a long-standing and fruitful partnership with the Book Festival which is built on our shared ethos of being open to ideas, extending knowledge and collaborating with others. We are delighted to have worked with the Book Festival for over a decade to deliver and support a wide range of author events which have inspired adults, children and communities."
Susan Stewart, Director of The Open University in Scotland