This year, our Festival Bookshop is brought to you by Waterstones and we've filled our shelves with an array of titles from visiting authors, related literature, and local publishers. You'll also find exclusive copies you won't get anywhere else.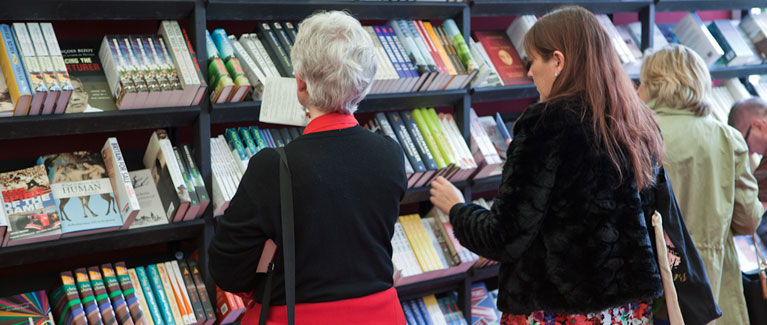 The Book Festival Bookshop
The Festival Bookshop in our festival village is located in the beautiful old Fire Station building on Lauriston Place. It is open daily from 9:30–21:30 during the Book Festival and stocks titles by all our visiting authors plus an array of related contemporary literature and books from Scottish publishers.
Don't miss your opportunity to have a face-to face chat with authors from this year's programme – most authors sign books immediately after their event in our Book Signing Tent in the Courtyard at Edinburgh College of Art.
Book Signings in The Signing Tent
After most events, authors sign copies of their books in the Signing Tent, in the Courtyard at Edinburgh College of Art. Please check the boards outside the tent for the book signing schedule – you can buy the books related to the events in the Signing Tent as well as the Festival Bookshop.