We run our own independent bookshops during the Festival. Every penny of profit from our book sales goes straight back towards the maintenance and development of the Book Festival.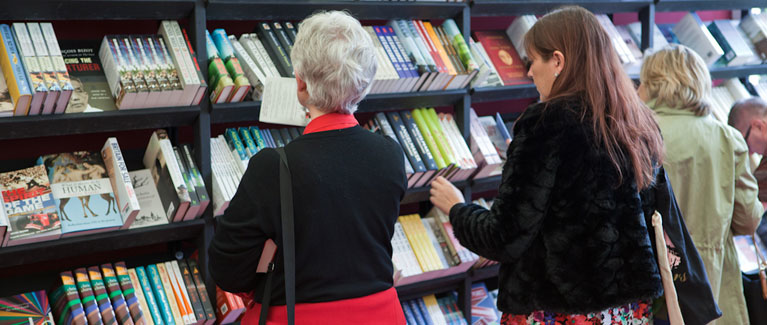 The Garden Bookshop
Open daily from 9:30 to 23:00
We've got tens of thousands of wonderful titles from our Festival authors and lots of others too. Scottish interest books, British and international fiction and non-fiction, comics, graphic novels and titles for young adults are all waiting for you to explore.
We've created a huge space dedicated to children's books which is stocked to the rafters with books and stories children will love. There are some great places to sit, read together, daydream or get chatting to friends with a cuppa or a glass of wine in the café, day time or evening.
---
The Bookshop on George Street
Open daily from Saturday 3 to Friday 9 August from 9:30 to 5:00 & Saturday 10 to Monday 26 August from 9:30 to 22:30
Our smaller yet no less beautiful bookshop on George Street offers thousands of books by Festival authors and others across a wide range of subjects and genres and it has a brilliant showcase of Scottish books. We also sell some unique Book Festival souvenirs.
---
Book Signings
Authors sign copies of their books after their events. Book signings take place in the Signing Tent in Charlotte Square Gardens and in our bookshops. Please check the boards outside each venue for the signing schedule.
---