We run our own independent bookshops during the Festival. Every penny of profit from our book sales goes straight back towards the maintenance and development of the Book Festival.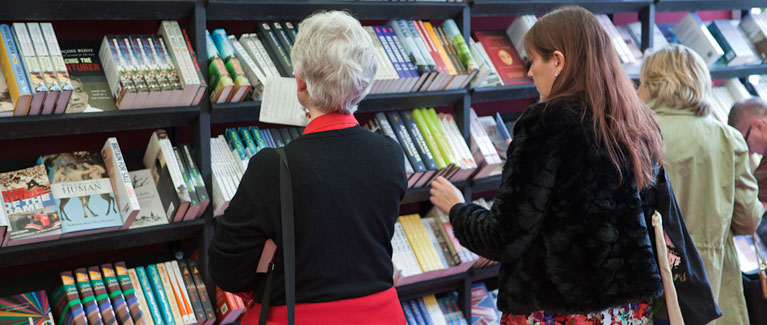 The Bookshop
Open daily from 9.30am to 9.30pm
Thousands of titles from Book Festival authors and writers are waiting for you to explore in our large independent bookshop, including Scottish interest books, British and international fiction and non-fiction, graphic novels and books for young adults.
Baillie Gifford Children's Bookshop
Open daily from 9.30am to 8.30pm
Thousands of titles are stocked in our bookshop entirely devoted to children and catering to all ages and tastes, including picture books, fiction, non-fiction, comics and graphic novels as well as a large selection for teenagers. There's plenty of space to browse at a leisurely pace and a reading area to help you choose.
Booksales Hut
Open daily from 9.30am to 10.00pm
Books relating to the author events in Bosco Theatre and The Greenhouse will be available in our Booksales Hut in the George Street arena during and after the events.
Book Signings
Authors sign copies of their books after their events. Book signings take place in the Edinburgh Gin Signing Tent, The Bookshop, the Baillie Gifford Children's Bookshop and the Booksales Hut. Please check the venue boards outside each venue for the signing schedule.
---