People's Postcode Lottery

To all players of People's Postcode Lottery
'A massive thank you to all players of People's Postcode Lottery, who in 2017 awarded us the fantastic sum of £275,000. We are now able to develop and deliver a wide-ranging programme of exciting literature events and activities which focus on instilling a love of books and an enjoyment of reading in people of all ages and levels of ability in communities across Scotland.'
Nick Barley, Director, Edinburgh International Book Festival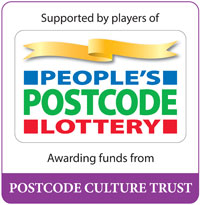 ---
Help the Edinburgh International Book Festival by playing People's Postcode Lottery
About People's Postcode Lottery
People's Postcode Lottery manages multiple society lotteries promoted by different charities supporting a range of good causes. Players of People's Postcode Lottery have raised millions of pounds for good causes across Great Britain and internationally. Players pay £10 for 10 draws, paid monthly in advance with a minimum of 31% going to good causes.
How it works
When you sign up to play, your postcode is entered into the daily draw, meaning you have the chance to win a prize every day. Over 20,000 postcodes win prizes every week. Once registered you are automatically entered every month into every draw for every prize.
Players must be 16 years or over.
People's Postcode Lottery is only available to play with postcodes in England, Scotland and Wales.
---
Company reg nr: 04862732 VAT reg nr: 848 316507 The Postcode Lottery Limited is regulated by the Gambling Commission under licences 000-000829-N-102511-009 and000-000829-R-102513-008. Registered office: Postcode Lottery Ltd, Titchfield House, 69/85 Tabernacle Street, London, EC2A 4RR, United Kingdom.

For assistance call People's Postcode Lottery on 0808-1098765 or visit the Contact Us page of their website. © 2012 Postcode Lottery Ltd