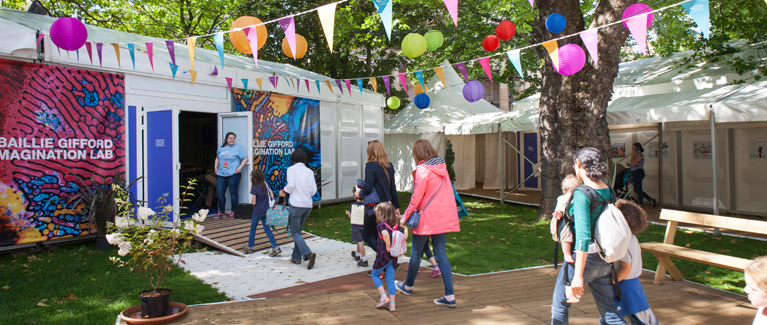 The Edinburgh International Book Festival is the world's largest public celebration of books. Each August, we transform Charlotte Square Gardens and the west end of George Street into an enchanting village of tents and walkways, theatres, cafés and well-stocked independent bookshops. It's the perfect place for families to spend a memorable day out together - leave the crowds of Edinburgh's city centre behind you and enter a world of imagination and magic.
Baillie Gifford Children's Programme
The Baillie Gifford Childen's Programme offers over 200 inspiring events for all ages from tots to teens, including interactive events, workshops and fun performances with top authors and illustrators from across the world.
Younger kids can catch up with the playground's latest book buzz while hot debates and exciting graphic novel events are designed to engage teenagers. This year, you can expect everything from drawing, colouring and crafting, to storytelling, poetry, music and dancing.
>> Download a PDF of the 2019 Baillie Gifford Children's Programme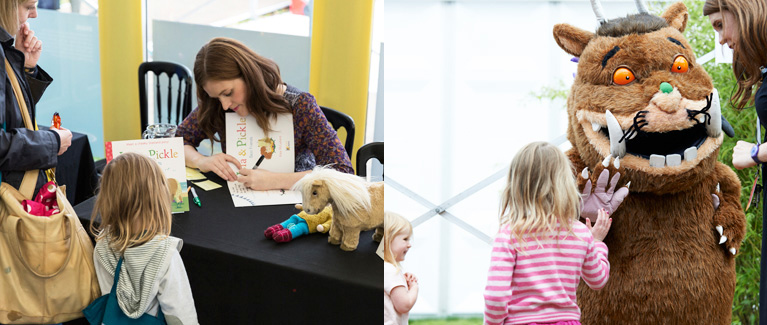 The fun doesn't stop there - the Book Festival has lots of FREE things for children and families to do, including daily drop-in craft activities, and storytelling and sing-along sessions.
Entry to the Book Festival Village itself is also free! It's an ideal space for families to be together, so why not come and spend the day, have some fun, and create shared memories? Here are a few of the things you could do:
See your favourite author, illustrator or character live on stage.
Meet your literary heroes, ask them questions and get your book signed.
Start the day with a magical half hour of storytelling, poetry, songs or rhymes (free but advance booking required).
Draw, create or play at our free drop-in activities in the Baillie Gifford Story Box (11:00 - 16:30 daily).
Visit the Super Power Agency bus for free drop-in literacy and storytelling activities.
Browse The Garden Bookshop, with thousands of books for children of all ages. There is a lovely area for you to share books and stories with your young ones.
Have a treat from one of our cafés, food stalls, bars or from the ice cream trike. There's coffee, beer, wine and spirits for the grown-ups too.
Sit on the grass and enjoy the sunshine! You are welcome to bring your own food and soft drinks and stay as long as you want. Drinking water taps are available to fill up water bottles.
There's plenty on offer at the Book Festival to create a memorable day for families and young people.