The Edinburgh International Book Festival is the world's leading public celebration of books, and each August our Baillie Gifford Children's Programme invites some of the most exciting authors and illustrators from across the globe to share their latest stories and adventures with children, families and young adults.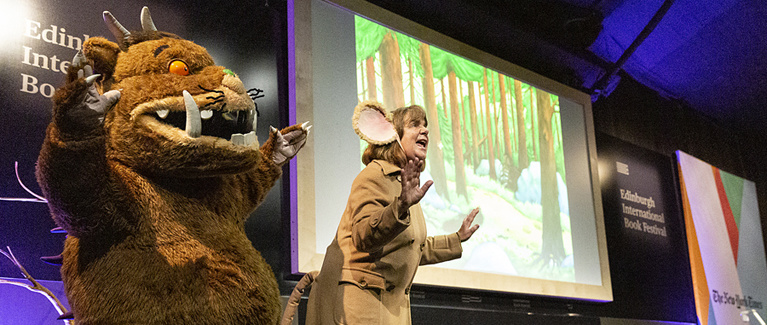 In 2021 we're staging a hybrid Book Festival – a fabulous online programme of over 250 events for adults and children, streamed live on our website. Alongside, we will welcome in-person audiences for a wide range of the events in the programme – including a selection of events for children in our Baillie Gifford Children's Programme – which you can book here on the website from 12 noon on 22 July. This year's Book Festival takes place from Saturday 14 to Monday 30 August at our new Festival home, the University of Edinburgh's Edinburgh College of Art.
Baillie Gifford Children's Programme Online
Our Baillie Gifford Children's Programme includes around 50 online events for children and young adults. You can watch live online – and get the opportunity to take part in the author Q&A – or catch up on demand at a time that works for you. View our full events list and book events on our website, or visit our FAQs page for more info on how to book and watch online.
Children – or anyone feeling creative! – can take part in our fun DrawAlongs. They take place on our Facebook page every day from 14-30 August at 9.30am, or catch up at a time that works for you. Get your pens, pencils and paintbrushes ready as some of your favourite book illustrators demonstrate how they draw, paint or collage their amazing characters and scenes. And don't forget to get a grown up to share your finished artwork with us on our socials! Visit our website for the full line-up or go to Facebook to set a reminder so you don't miss a moment. You can also revisit some of our previous DrawAlongs for a recap on what we got doodling last August!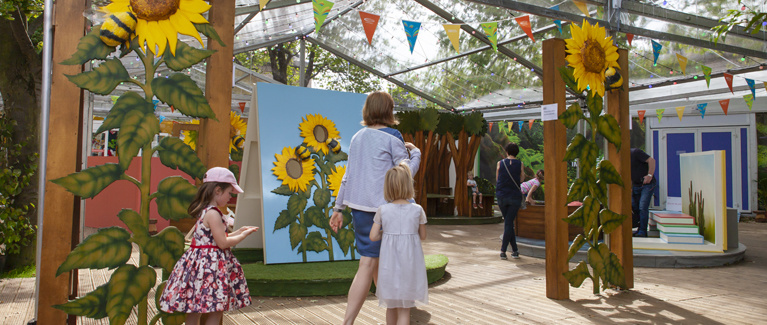 Visiting the Festival in Person
COVID NOTICE: Please check the website regularly, and especially just before you leave to visit the Book Festival in-person – details may change at short notice as we adapt to regulations.
We're working with the Scottish Government, City of Edinburgh Council and other authorities to implement appropriate measures to ensure the safety of everyone visiting or working at the Book Festival this year. These include regular cleaning and contactless ticketing. Audience numbers are limited in venues to maintain social distancing and we may be required to cap the number of people on our Festival site. Face masks will be required to be worn in all indoor spaces. Our plans will be adjusted in response to public health measures as they evolve.
Entry to the Book Festival Village is FREE and EVERYONE is welcome
The Festival's new home is Edinburgh College of Art, a charming, leafy courtyard with lovely old listed buildings, which house our 2021 venues and broadcast studios. Pop in for a visit, it's a wonderful space to sit, talk, think, play and be entertained. The site also has free WiFi for visitors. You can see a favourite author, enjoy a cuppa in the café, a beer in the bar, or simply park yourself on the grass (with or without a book) and soak up the atmosphere. You don't need a ticket to an event to enjoy the Book Festival village.
A selection of Book Festival events will be livestreamed onto our large outdoor screen in the courtyard every day during the Festival – including some of our children's events and some special book character appearences! See the full schedule here.
Cafes and bars
The Book Festival Village offers a range of places to buy food and drink, including an indoor Café, which is a large and airy space with a lovely vantage point across the main courtyard. There are also outdoor seating areas, some of which are undercover.
Children's play area and baby change
The children's play area is a welcoming undercover area in our courtyard and provides a dedicated space where little people and their families and carers can play and relax. You can bring a packed lunch if you'd like. There is a family toilet with baby change facility nearby.
Buggies and pushchairs
Please park your buggy in the Buggy Park next to the children's play area. Buggies cannot be taken into the theatres.
Toilets
Toilets for everyone are located in the paved area at the rear of the Book Festival Bookshop, including a standard Disabled Toilet and a Changing Places Toilet (with a hoist). Access to the toilets is via a ramp from the courtyard.
Picnics and packed lunches
You're welcome to bring your own food and soft drinks into the Book Festival Village and relax on the grass for as long as you want – you don't have to have bought a ticket to see an event.
For more information on what's available at the Book Festival site see our Visiting the Festival page.