FAQs - Visiting With Children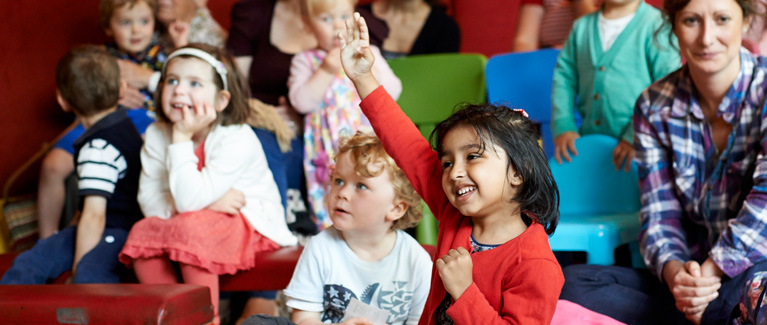 The Book Festival is a safe family-friendly space where both children and accompanying adults can feel at home, have some fun and be inspired. We have answered some of the more frequently asked questions below to help make your visit as enjoyable as possible.
---
How do I know if the event is suitable for my child?
We have included an age range for each event in our programme. These are chosen in consultation with the publisher/ author, taking into account the length, content and format of each event. You can aslo search events by age in our online listings.
---
How long are children's events?
All events last 1 hour unless otherwise indicated in the event listings.
---
Do I have to accompany my child to events?
We ask that all children under ten are accompanied by an adult to events. Everyone attending an event will require a ticket. As space is limited, we can only admit ticket holders. Additional babies/ siblings may only be admitted at our discretion.
---
Do I need a ticket to take my baby to a children's event?
If the event is for children under two you will need to purchase a ticket. For all other events, you can request a free baby ticket for babies under 2 years from the Box Office on the day of the event.
---
Are there any free things for children to do at the Book Festival?
Many of our ticketed children's events are free, such as the daily 'Are You Sitting Comfortably' sessions. In addition, we have free daily drop-in arts and crafts activities in the Baillie Gifford Story Box (11:00 - 16:30) and in the first week the Super Power Agency Bus will be offering free literacy and storytelling activities. You can also meet authors and illustrators after events and get your book signed, and you are welcome to spend time browsing and sharing stories in the bookshop for as long as you want.
---
What happens if I'm late for an event?
To ensure events remain enjoyable and relaxing for you and for authors, latecomers won't be admitted to an event once the doors have been closed, nor refunds given. However, we understand people with young children may need to leave an event unexpectedly and we will help you exit as discreetly as possible, and get you back in again.
---
Can I take my baby to adult events and do I need a ticket?
If you cannot make alternative arrangements, you may bring your baby to adult events. Please request a free baby ticket from the Box Office on the day of the event. Our staff will find you a seat neat the door to allow a swift exit, should it become necessary. Out of consideration to others, we will ask you to leave if your baby is noisy.
---
Can I take my pushchair to an event?
Due to fire regulations and the limitations of space in our venues, buggies and pushchairs are not permitted inside the theatres. Please park your buggy or pushchair in the Buggy Park next to the Baillie Gifford Story Box (see site map). The Buggy Park is not staffed and items are left at the owner's risk. Please do not leave bags in this area as they may be deemed a security risk and removed.
---
Do you sell books for children?
The Garden Bookshop in Charlotte Square Gardens has a huge area dedicated to children. It's got thousands of books for children of all ages, along with a lovely area to read together. Feel free to browse for as long as you want.
---
How can my child get their book signed?
Authors sign copies of their books after their events. Book signings take place in the Signing Tent in Charlotte Square Gardens and in our bookshops. Please check the boards outside each venue for the signing schedule.
---
Do you sell any food and drink for children?
Our cafés serve a range of food and drink for adults and children and have high chairs available for youngsters.
---
Can I bring my own food and drink?
You are welcome to bring your own food and soft drinks and relax on the grass for as long as you want- you don't have to see an event to do so. Drinking water taps are available (see site map) to fill up water bottles.
---
Are there any baby or other changing facilities?
Baby changing facilities are available in the toilet area next to the Spiegeltent, alongside a fully accessible Changing Places toilet, complete with a hoist and changing table (see site map).
---
Is the Festival wheelchair accessible?
The Book Festival Village and the venues within it are fully accessible and free wheelchair hire is also available.