FAQs - Visiting With Children
The Book Festival is a safe family-friendly space where both children and accompanying adults can feel at home, have some fun and be inspired. We have answered some of the more frequently asked questions below to help make your visit as enjoyable as possible.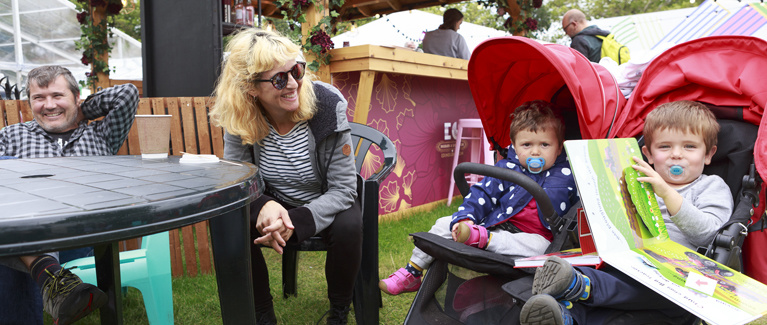 How do I know if the event is suitable for my child?
We have included an age range for each event in our online listings. These are chosen in consultation with the publisher/author, taking into account the length, content and format of each event. You can also search events by age in our online listings.
---
How long are children's events?
The length of each event can vary. Please check in the event listings.
---
Do I have to accompany my child to events?
We ask that all children under ten are accompanied by an adult to in-person events. Everyone attending an event will require a ticket. We are sorry but we will not be able to admit additional babies/siblings this year due to space and social distancing restrictions.
---
Do I need a ticket to take my baby to a children's event?
If the event is for children under two you will need to purchase a ticket. For all other events, you can request a free baby ticket for babies under 2 years. Please request a free baby ticket a few days before your event by emailing boxoffice@edbookfest.co.uk.
---
Are there any free things for children to do at the Book Festival?
All events at the Book Festival are available to watch online on a Pay What You Can basis. However entry to the Book Festival site at the Edinburgh College of Art on Lauriston Place is absolutely free. There is an interactive play area and a bookshop with children's section. Some children's events will also be shown live on a big screen in the courtyard, so families can enjoy the Book Festival experience el fresco at no cost.
Please check the Covid-19 notice on the website Visit pages and How to Book page before you leave home to visit. We may be required to cap the number of people on our Festival site or introduce other safety measures. Details may change at short notice.
---
What happens if I'm late for an event?
Due to the hybrid nature of our events this year, it is incredibly important you are settled in your seat at the start time of the event. Please arrive in good time – once the doors are closed, we will not be able to admit latecomers to preserve the quality of the live broadcast and prevent disruption to others in the venue. Latecomers are not entitled to a refund. We understand people with young children may need to leave an event unexpectedly and we will help you exit as discreetly as possible.
---
Can I take my baby to adult events and do I need a ticket?
If you cannot make alternative arrangements, you may bring your baby to adult events. Please request a free baby ticket a few days before your event by emailing boxoffice@edbookfest.co.uk. Our staff will find you a seat neat the door to allow a swift exit, should it become necessary. Out of consideration to others, we will ask you to leave if your baby is noisy.
---
Can I take my pushchair to an event?
Due to fire regulations and the limitations of space in our venues, buggies and pushchairs are not permitted inside the venues. Please park your buggy or pushchair in the Buggy Park. The Buggy Park is not staffed and items are left at the owner's risk. Please do not leave bags in this area as they may be deemed a security risk and removed.
---
Do you sell books for children?
The Book Festival Bookshop in our festival village is located in the beatiful old Fire Station building on Lauriston Place. It is open daily until late during the Book Festival in August, and stocks titles by all our visiting authors - including the authors in our Baillie Gifford Children's Programme - plus an array of related contemporary literature and books from Scottish publishers.
We also run an online Festival Bookshop all year round. From the date of the launch (6 July in 2021), the virtual shelves are packed with titles from every author in our programme (including signed copies), along with lots of books from Scottish publishers. You can search by Festival event calendar, which makes it easy to find the titles that will be talked about in our programme.
---
How can my child get their book signed?
Don't miss your opportunity to secure a virtual book signing and have a face-to face chat with selected authors from this year's programme – see each event page for if an author is doing a virtual (via Zoom) or an in-person (on the Festival site) signing after their event.
---
Do you sell any food and drink for children?
Our café serves a range of food and drink for adults and children and have high chairs available for youngsters.
---
Can I bring my own food and drink?
You are welcome to bring your own food and soft drinks and relax on the grass for as long as you want- you don't have to see an event to do so.
---
Are there any baby or other changing facilities?
Baby changing facilities are available by the children's play area. There are toilets for eveyone, including a fully accessible Changing Places toilet, complete with a hoist and changing table, along with a standard disabled toilet.
---
Is the Festival wheelchair accessible?
The Book Festival Village and the venues within it are fully accessible and free wheelchair hire is also available.