More articles Friday 17 September 2010 12:27pm
Dozens of new writing pieces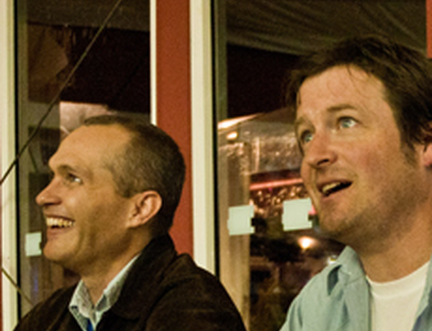 The Book Festival has had the pleasure of commissioning new writing from leading authors, and now we all have the pleasure of reading them! We have uploaded over twenty pieces of work on the absorbing theme of "Elsewhere", and they are all available to read and download, right here on the website.
From king of kookiness Andy Stanton to the startlingly insightful Ali Smith, dozens of brilliant writers have contributed their talents to this fascinating Book Festival project.
Currently to be read on our Elsewhere: New Writing Commissions page is:
A Flash of Blue Light by Michel Faber
Because it's a Wednesday by A L Kennedy
Chicago by Allan Radcliffe
Sassuolo by Eleanor Thom
Vanishing Point by Louise Welsh
The Future According to Luke by James Robertson
Puerto Galera by Jason Donald
Surtsey by Doug Johnstone
We Are All Waiting by Denise Mina
From My Vow by Jen Hadfield
The art of elsewhere by Ali Smith
Bain de Soleil by David Vann
Not Scotland by Anne Donovan
Horror Story by Kirstin Innes
Apparently by Karen Campbell
Los San Patricios by Roddy Doyle
Elsewhere, Far From Here by Alberto Manguel
Be Here Now by Miguel Syjuco
Sullivan's Ashes by Alan Warner
After Drink You Can Turn Earth Up Side Down by Rodge Glass
Paper Boat Paper Bird by David Almond
Red Wolves in the Mist by Elizabeth Laird
Welcome to Flaxland by Andy Stanton
Another Country by Margo Lanagan
With more to come throughout 2010 and 2011, unleashed exclusively here on the Edinburgh International Book Festival website.

If you missed the chance to enjoy some of these writers in their events last month, or simply want to have another look, keep an eye on our Media Gallery: we will be uploading Elsewhere videos in October.
More articles